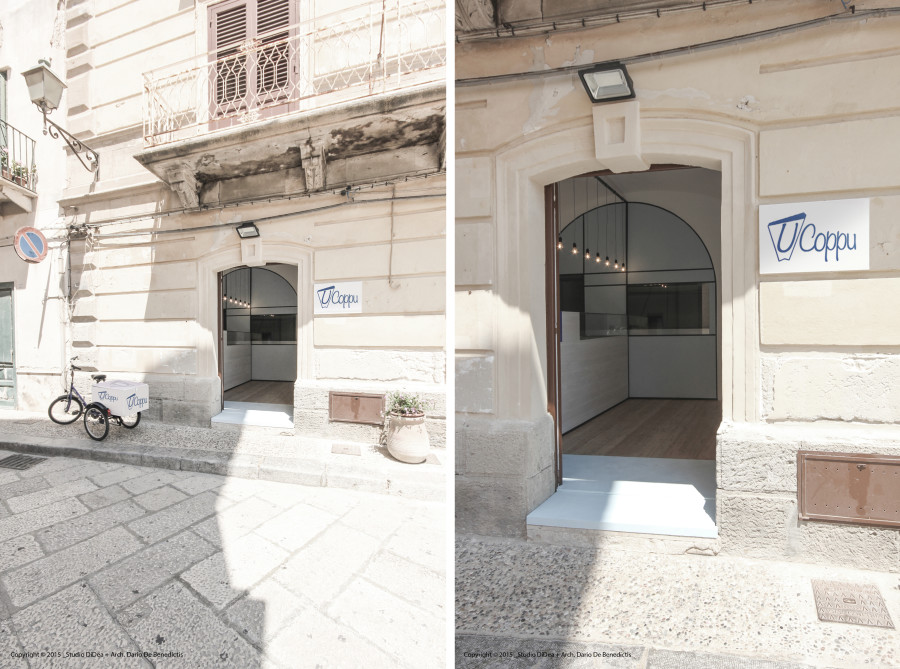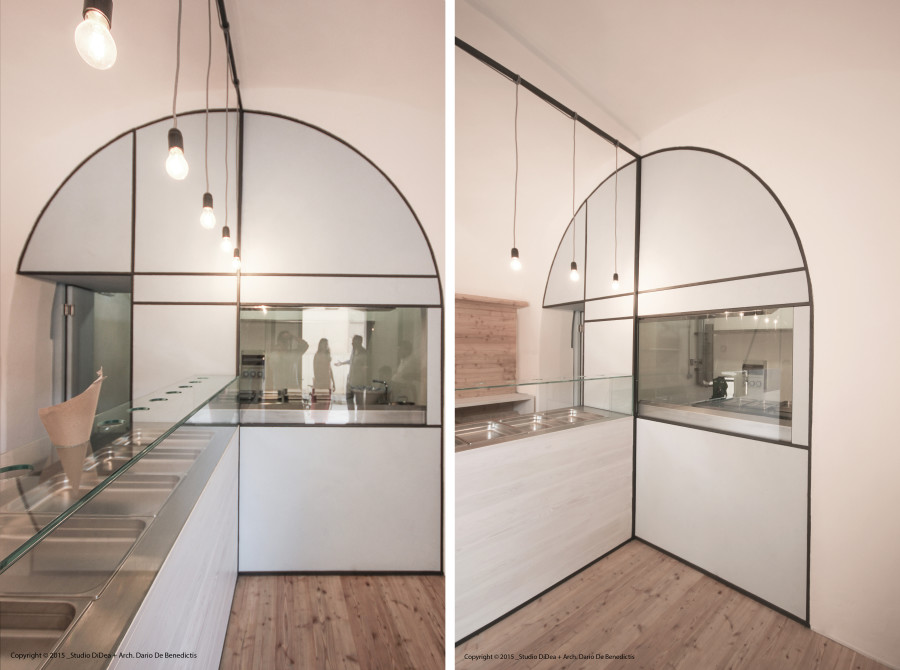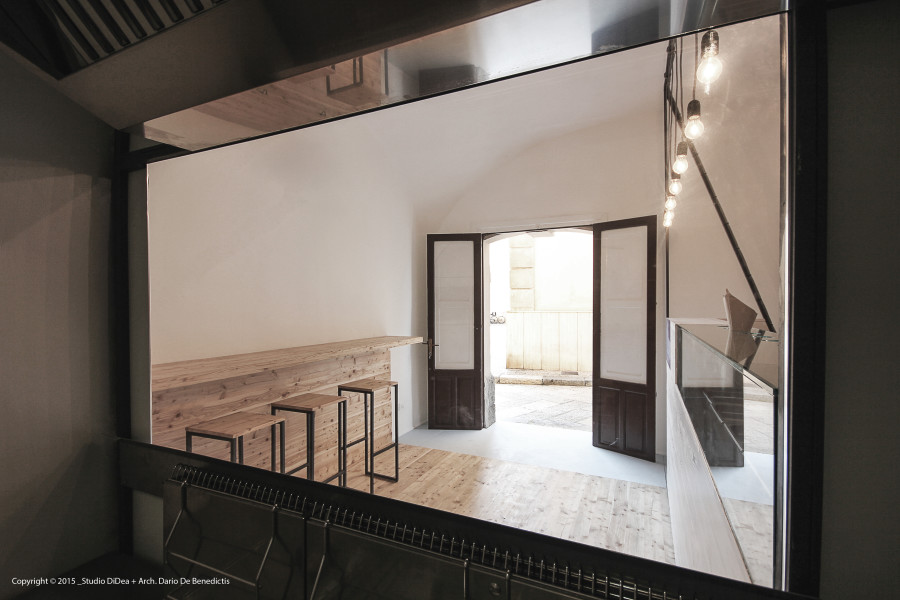 U Coppu
Il concept di U' Coppu nasce dalla volontà di portare la tradizione del cibo siciliano da strada all'interno di una bottega.
L'intervento progettuale si integra all'interno di spazi voltati senza alterarne la volumetria e la leggibilità originarie e mantenendone la caratteristica di spazi in successione nella distribuzione delle nuove funzioni anch'esse in successione, quali: la zona vendita, la zona cottura e la zona laboratorio.
All'interno della zona vendita si colloca il banco che per forma e funzione assume le caratteristiche tipiche del banchetto da strada. Questo è composto da una base d'appoggio realizzata in listelli di larice e vetro e da una struttura soprastante in ferro da cui pendono le lampade che illuminano l'intero spazio.
A dividere la zona vendita dalla zona cottura a vista è una parete di pannelli resinati e montanti in ferro in cui un riquadro in vetro permette al pubblico di vedere tutte le fasi di lavorazione del cibo. Quest'ultimo è servito nel "coppo", tipico conetto di carta per il cibo d'asporto.
Nella zona vendita, il pavimento in listelli di larice naturale risvolta in un unico gesto lungo due pareti contrapposte terminando in mensole: una di appoggio per il pubblico e un'altra sulla parete retrostante il banco per l'esposizione.
A completare il disegno della pavimentazione è una fascia di resina che marca la soglia di ingresso e invita ad entrare.
The concept of  "U' Coppu" borns from the will to bring the tradition of Sicilian Street food within a shop.
The project integrates within vaulted spaces without altering the original volume and the legibility, maintaining the characteristic of spaces in succession in the distribution of new functions also in succession, like: the sales zone, the cooking area and the laboratory area.
Inside the sales area, there is a counter that by form and function takes the typical characteristics of the street food's counter. This is made of strips of larch and glass and from an overhead structure in iron from which hang the lamps that illuminate the entire space.
The sales area is divided from the cooking area by the resin panels and iron uprights in which a pane of glass allows the public to see all stages of food processing. The food is served in the "tile"- coppu – typical cone of paper for take-away food.
In the sales area, the floor slats of larch natural continue along two opposite walls ending in shelves: one of these for support for the public and another, on the wall behind the counter, for the products' exhibition.
To complete the design of the paving is a band of resin that marks the entry threshold and invites to enter.
CREDITI / CREDITS
Cliente/Client: Riccardo Truglio
Architetti/Architects: Studio DiDeA Architetti Associati + Arch. Dario De Benedictis
Servizi forniti/Program: ristrutturazione, progetto d'interni/ Refurbishment, interior design
Anno/ Year: 2015
Luogo/Place: Isola di Favignana (Tp) / Favignana Island (Tp)
Superficie/Surface: 78 m2
Materiali/Materials: Legno di larice e quadralini in ferro, legno di larice per il bancone, pavimento in resina per l'ingresso /Larch wood and squares iron, larch wood for the counter, resin floor for entry
Fotografie/Photographs: ©Studio DiDeA
LINKS
www.restaurantandbardesignawards.com
www.thearchitectureinsight.com
PRIZES
Restaurant & Bar Design Awards – Among the first 5 for Street food category
PRESS