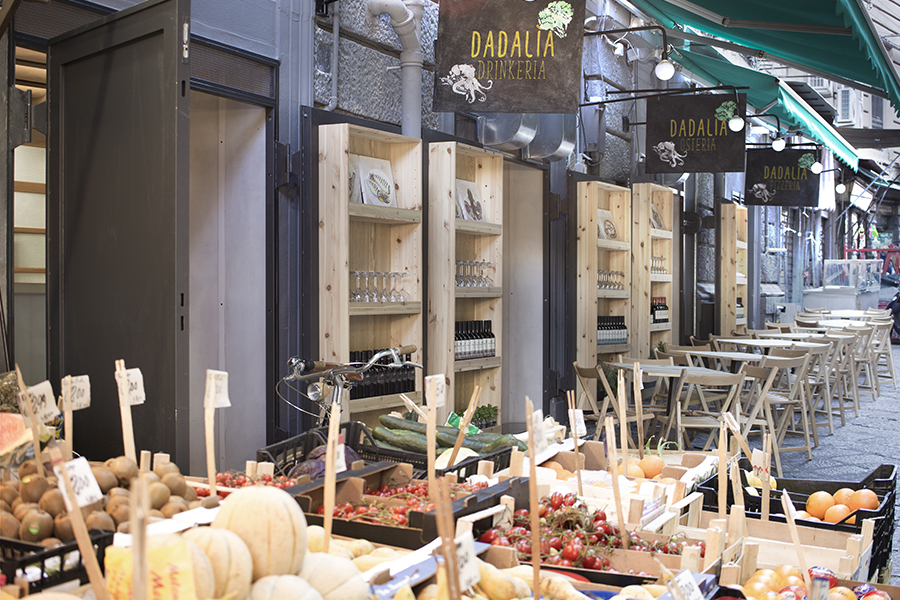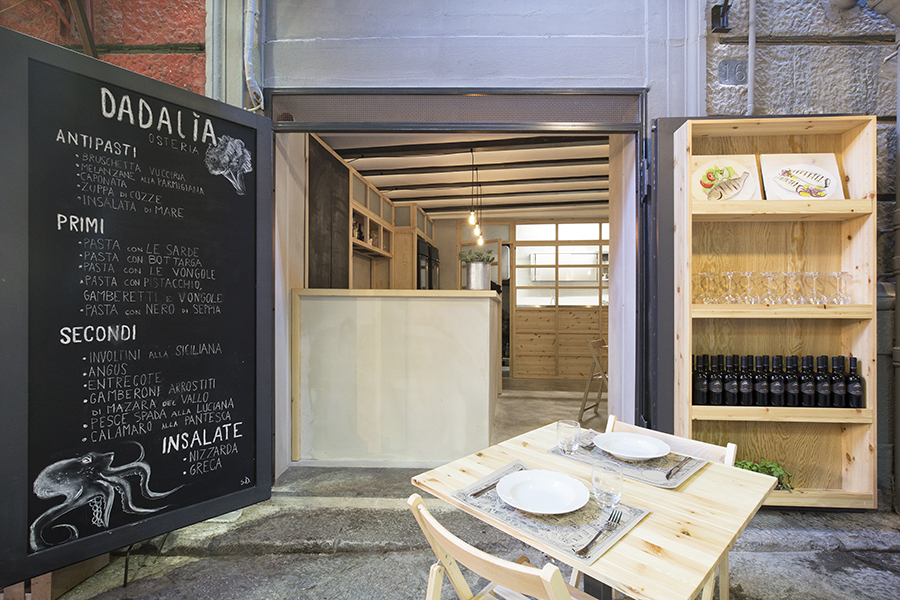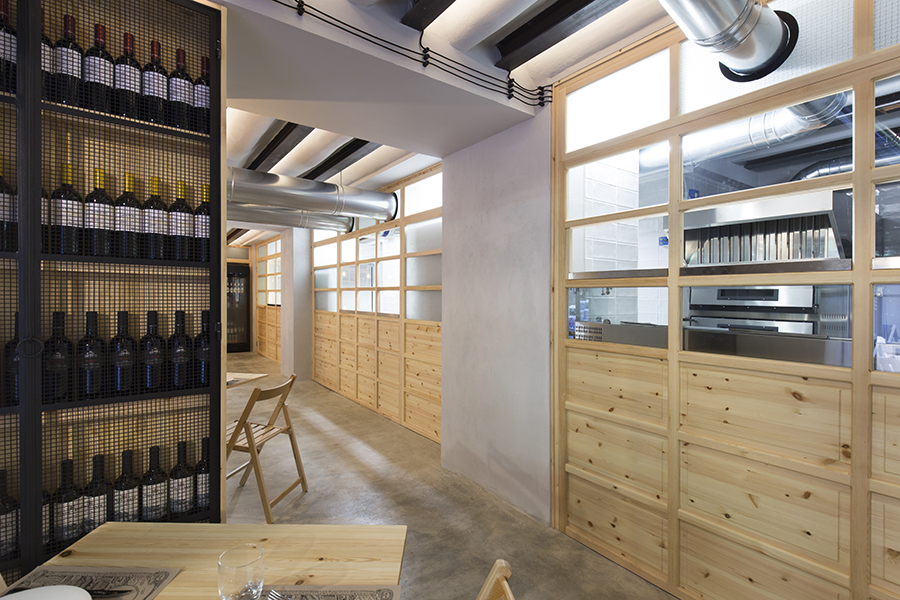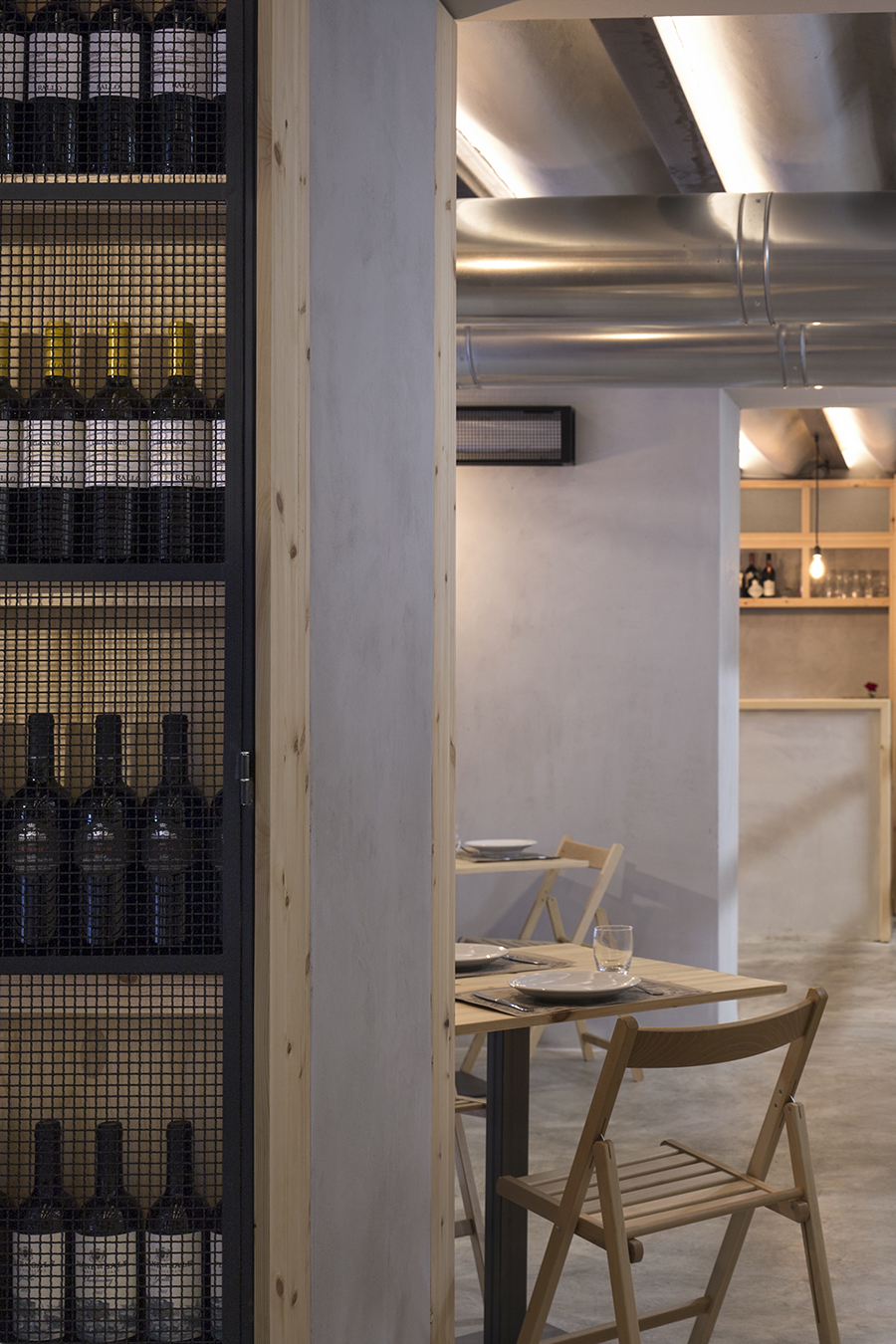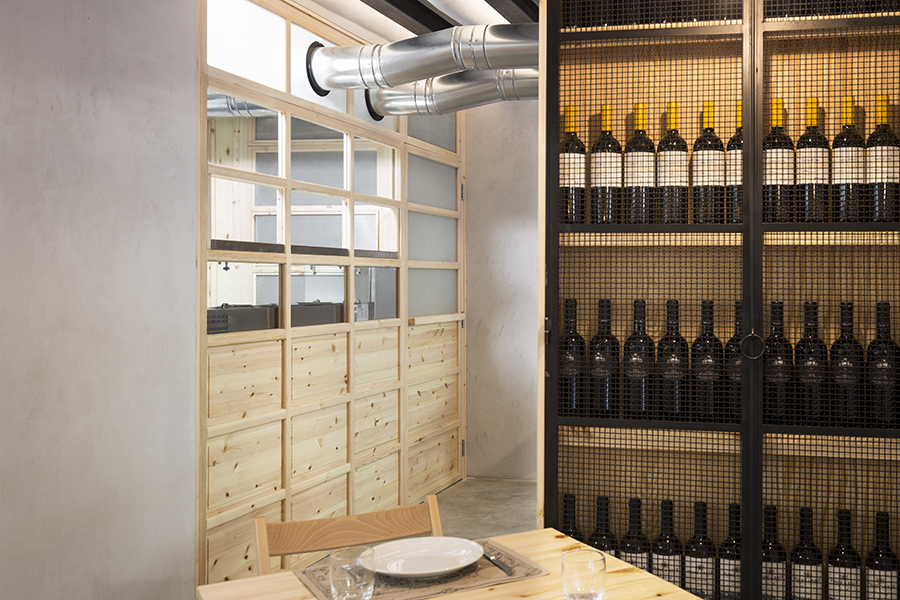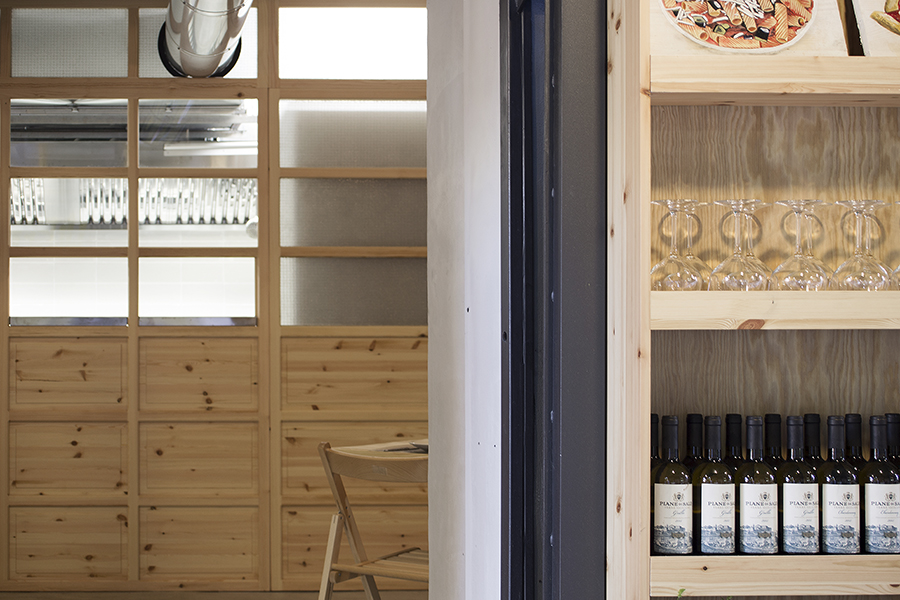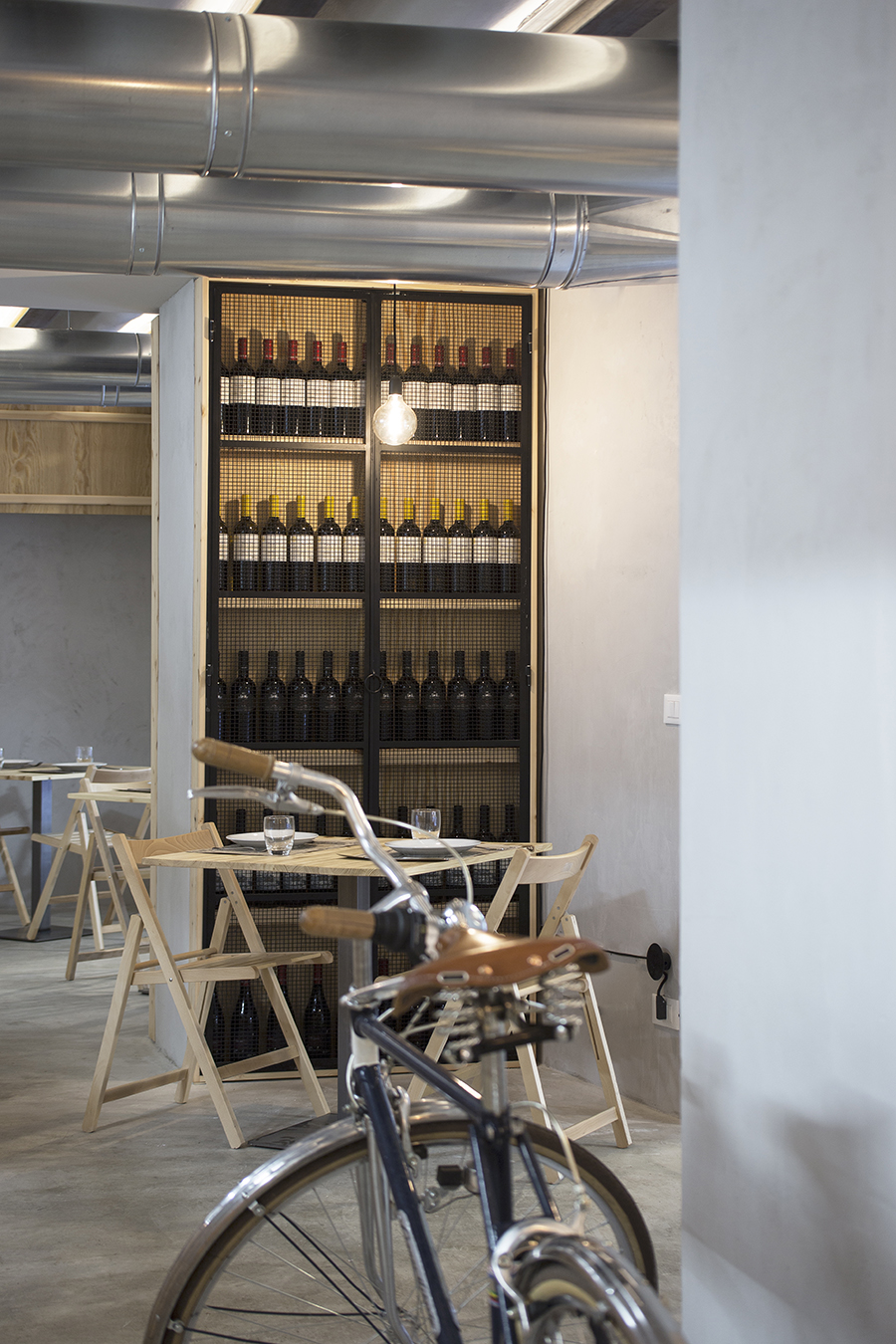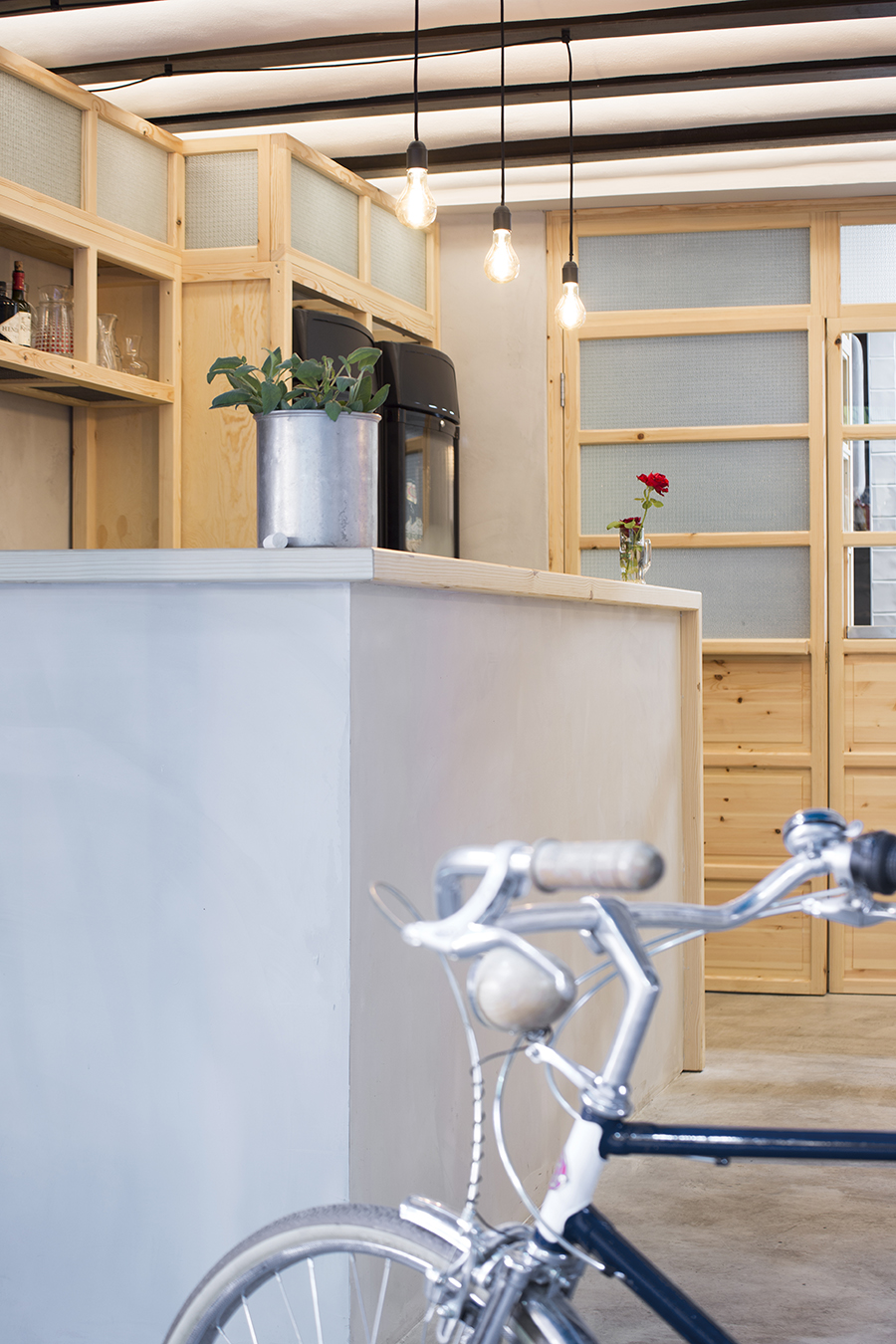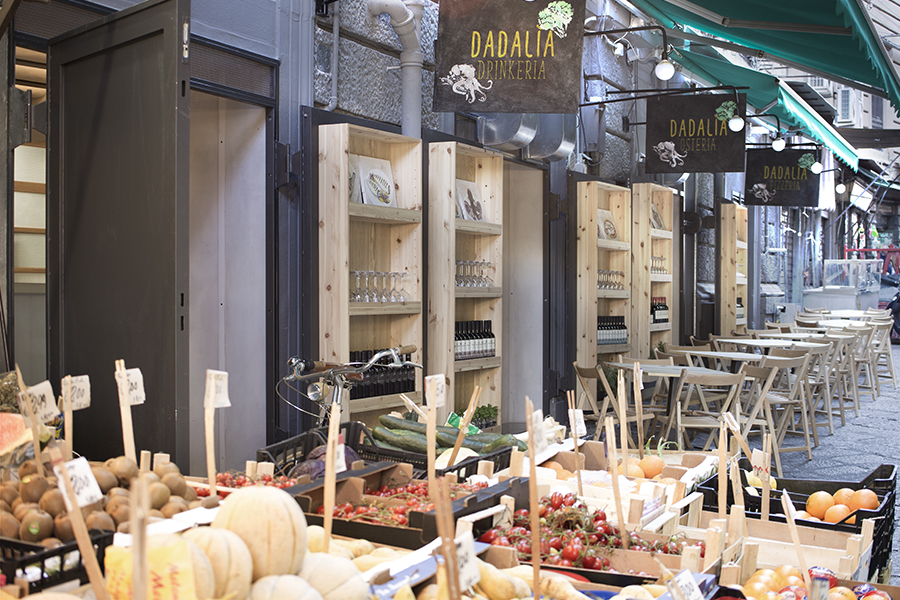 OSTERIA DADALìA
Dalla ristrutturazione di un'antica bottega, nasce Dadalìa, un'osteria nel cuore del centro storico di Palermo, all'interno del mercato della Vucciria.
Il locale si trova al piano terreno di un edificio del 1850. L'ambiente presenta una pianta quadrangolare che si sviluppa in larghezza e tre ingressi al livello stradale. La richiesta del proprietario era quella di avere un ristorante che dialogasse con l'esterno, dotato di cucina a vista, dall'atmosfera accogliente e informale, un luogo in cui gustare piatti della cucina locale. Gli architetti hanno raccolto la richiesta immaginando un ambiente neutro aperto sulla vita del mercato, il protagonista del quartiere.
L'interno rivestito da una resina grigio chiaro che prosegue su pavimento ,pareti e sul soffitto, caratterizzato da voltine a botte, scoperte in fase di ristrutturazione e valorizzate con l'inserimento di luci led. L'ambiente articolato in due zone: una anteriore dedicata ai clienti con angolo bar e tavoli, e una posteriore per I volumi tecnici e di servizio (cucina, servizi privati, servizi pubblici)- separate da una struttura in legno di pino di Svezia e vetro armato.
L'illuminazione caratterizzata da lampade a sospensione che evocano quelle utilizzate un tempo per illuminare la mercanzia. All'esterno i portoni e le porte di ingresso possono aprirsi completamente diventando scaffalature per piante aromatiche, e necessaire per il servizio al tavolo.
Studio DiDeA designed a new inn Dadalìa in the heart of the old Palermo downtown, within the Vucciria market.
The design comes out from the renovation of an old shop located on the ground floor of a 1850 building. The room has a quadrangular shape that develops in width and three entrances to street level.The owner's request was to have a restaurant communicating with the outside, with an open kitchen, a place where you can taste local dishes in a welcoming and informal atmosphere. The architects responded to this request by imagining a neutral environment open to the life of the ancient street market with its strong features: colors, smells, voices.
For this purpose the interior is covered with a gray resin that continues on the floor, walls and ceiling, this last one featuring barrel vaults, discovered during renovation works and enhanced with the inclusion of LED lights. The environment is divided into two areas: a front dedicated to customers with a bar counter and tables, and a rear for technical and service volumes (kitchen, private services, public services) – separated by a Swedish pine wood and reinforced glass structure.
The architects chose pendant lamps evoking those used in the past to illuminate the merchandise. Outside the gates and entrance doors can completely open, becoming shelving for aromatic plants, and items for table service.
CREDITS
Progetto/Project: Dadalìa Osteria
Cliente/Client: Dadalìa S.r.l.s.
Luogo/Place: Palermo
Anno/Year: 2018
Progettisti/Designer: Studio DiDeA Architetti Associati
Collaboratori/Team: Arch. Maristella Galia, Arch. Chloè Pierron, Arch. Agnese Abbaleo, Arch. Sergio Diodato
Prezzo/Budget: 120.000 €
Impresa/Contractor: Antonino Davì
Opere in legno/Woodwork: Wood Farm di Nunzio Bonaccorso
Opere in ferro/Ironworks: Chirco Pietro
Materiali/Materials: legno pino di Svezia, vetro armato, ferro, resina / Swedish pine wood, armed glass, iron, resin
Attrezzature/Kitchen Equipment: Fimar, Gruppo Spina Palermo
Forniture/Suppliers: Longho
Foto/Pictures: Studio DiDeA Architetti Associati
LINKS
PRESS