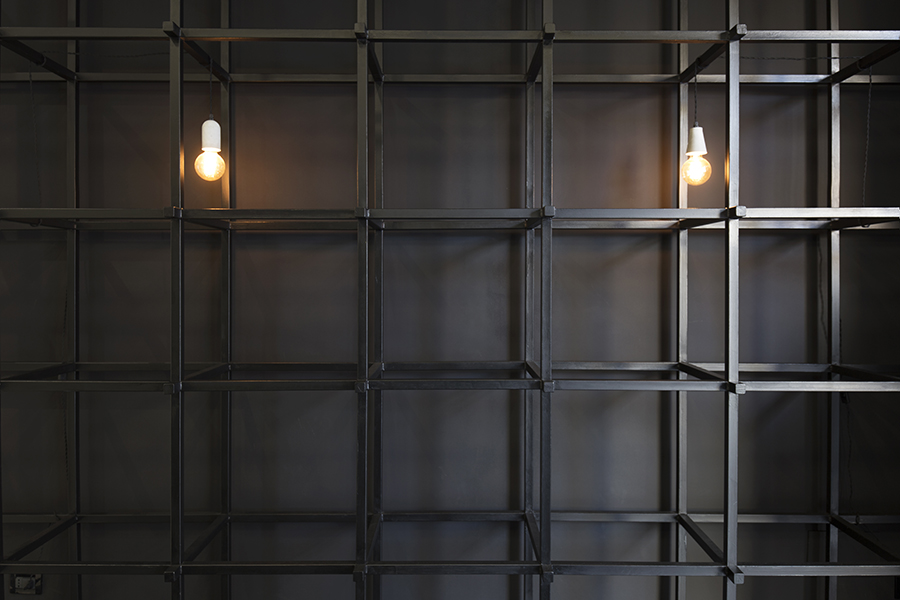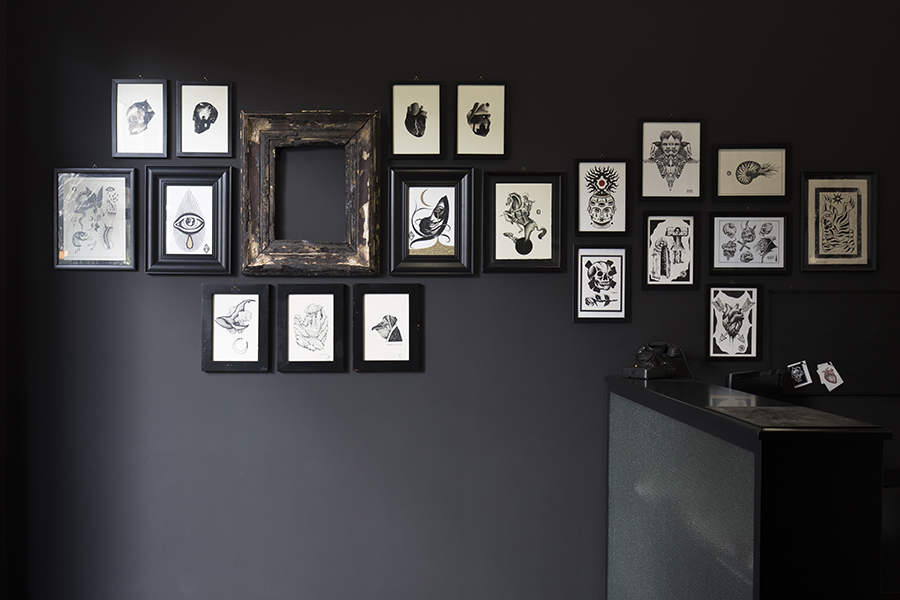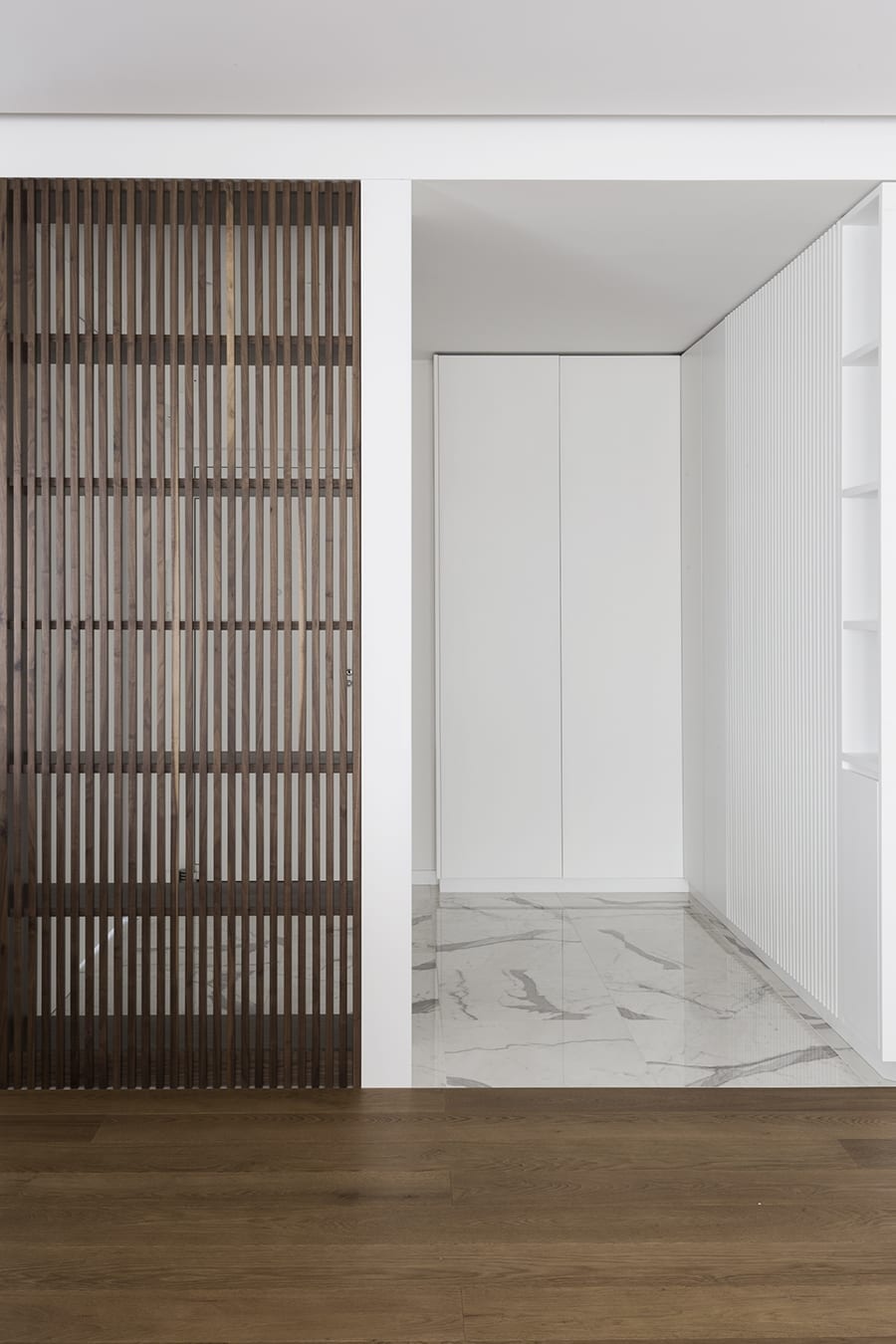 NERHO TATTOO
Studio DiDeA ha realizzato un nuovo spazio per uno studio di tatuaggi: Nerho Tattoo, un progetto minimale in bianco e nero dall'identità fortemente grafica.
La richiesta del cliente era quella di avere un laboratorio con una piccola galleria annessa in cui esporre e vendere gadget e opere grafiche di piccolo formato.
Il locale, posto al pian terreno di un edificio, si componeva di due ambienti comunicanti tra loro; uno degli ambienti presentava nella parte posteriore una differenza di quota.
Gli architetti hanno mantenuto la partizione interna disponendo nell'ambiente di sinistra la sala di attesa e nella parte rialzata il laboratorio grafico, mentre nella parte destra, a cui si accede dalla sala d'attesa, si trova il laboratorio con lettino per tatuaggi.
La scelta di due colori (il bianco e il nero) e di pochi materiali (ferro, vetro armato e resina) caratterizza fortemente il progetto. Gli ambienti di lavoro (laboratorio grafico e laboratorio di tatuaggi) si tingono di bianco mentre la zona di ingresso è totalmente nera.
Una griglia modulare in ferro ricopre la parete destra dell' ingresso proseguendo nell'ambiente successivo. Inoltre un bancone in ferro e vetro armato accoglie i clienti; gli stessi materiali caratterizzano la vetrata che separa l'ingresso dal laboratorio grafico. I pavimenti sono rivestiti in resina bianca e nera, a seconda della funzione dell'ambiente in cui si trovano.
Studio DiDeA designed a new place: a tattoo shop in Palermo. The design is essential: black and white with a strong graphic identity. The client's request was to have a workspace with a small gallery for displaying and selling gadgets and small artworks.
The venue at the ground floor of a multi-storey building was composed of two connecete spaces; one of them had an elevated portion.
The designers kept the internal partition, placing the waiting room and the graphic workshop in the left side, and the tattoo workshop in the right side.
The main feature of the space comes from the choice to use only two colors (black and white) and few materials (iron, wired glass and resin). The workspace (graphic workshop and tattoo workshop) are white coloured, on the contrary the waiting room is black colored.
An iron grid with a square module covers the right wall of the waiting room continuing in the following one visually connecting the two spaces. The counter in wired glass and iron is custom made. The same materials are used for the glass wall dividing the entrance from the graphic workshop. The flooring is covered with black and white resin.
CREDITS
Cliente / Customer: Nerho Tattoo
Architetti / Architects: Studio DiDeA
Collaboratori / Collaborators: Arch. Andrea Collodoro
Servizi forniti / Services: Progetto d'interni, Direzione Lavori, Direzione Artistica
Anno / Year: 2018
Luogo / Place: Palermo, Italia
Superficie / Surface: 65,00 mq
Impresa / Contractor: Electronic World S.r.l.s.
Materiali / Materials: Ferro; resina; vetro armato.
Pavimenti / Floors: Resina cementizia / Resins
Fabbro / Blacksmith: S.G. Metallica di Sciortino Giuseppe
Illuminazione / Lighting: Electronic World S.r.l.s.
Fornitori / Suppliers: Electronic World S.r.l.s.
Fotografie / Photos: Studio DiDeA Architetti Associati
LINKS
AWARDS