A DECADE OF SHARED VISION: COMBINING MINIMALISM, LUXURY, AND THE SUSTAINABILITY OF MINIMALISM IN THE MEDITERRANEAN
A DECADE OF SHARED VISION: COMBINING MINIMALISM, LUXURY, AND THE SUSTAINABILITY OF MINIMALISM IN THE MEDITERRANEAN
Dear readers,
I am Nicola Andò, Creative Director of Didea architectural studio, and I am thrilled to share with you an extraordinary chapter of our story. Ten years ago, four young co-founders embarked on a bold journey, establishing our studio in Palermo. Today, as we celebrate a decade of design and open our second office in Malta, we reflect on our identity and the values that guide us.
I invite you to delve into this captivating exploration, where minimalism, luxury, and sustainability merge in an unprecedented union. We believe this article will inspire your creativity and make you reflect on the power of design.
The roots of minimalism: Minimalism, a design philosophy that celebrates simplicity, clarity, and purpose, has been the driving force behind our studio from its early days. It is a vision that has inspired, guided, and shaped the foundations of our work.
For us, minimalism is not merely an aesthetic trend but a philosophy deeply rooted in how we conceive design. Its essence lies in eliminating the unnecessary to reveal the intrinsic beauty of simplicity. This principle, "less is more," has been our creative beacon from the beginning.
We have drawn inspiration from visionary architects like John Pawson, known for his creations that embrace the purity of lines and the essentiality of materials. His work has taught us that through subtraction, one can achieve a profound sense of harmony and functionality.
The allure of luxury: On the other side of the design spectrum is luxury—a word that evokes opulence, refinement, and indulgence. But for us, luxury goes beyond appearance and cost; it's a celebration of quality, craftsmanship, and the sensory experience of spaces.
We are inspired by Claudio Silvestrin, an internationally renowned architect, known for his ability to craft luxurious environments that enhance the inherent beauty of materials and the mastery of craftsmanship.
His design philosophy aligns perfectly with our vision of how luxury should be interpreted in the realms of architecture and design.
To us, luxury is not about ostentation, but rather the art of creating spaces that offer an immersive experience for the senses. It is the careful choice of materials, precision in craftsmanship, and attention to detail that defines luxury in our designs.
In every creation, we aim to convey a sense of richness, warmth, and exclusivity. Luxury is not just visual; it engages all the senses. We want anyone entering one of our spaces to feel enveloped in an atmosphere of well-being and sophistication.
For us, luxury also concerns lasting over time. We design spaces that withstand the test of time, where beauty and functionality coexist in perfect harmony. This is our interpretation of sustainable luxury, where quality is at the heart of everything.
In the coming decade, we plan to elevate our concept of luxury, exploring innovative ways to meld minimalism with opulence. We aspire to create spaces that are both luxurious and ecologically sustainable, where beauty is intrinsically tied to environmental responsibility.
We hope this journey into our approach to luxury has inspired you and made you ponder the deeper meaning of this word in the context of design. To us, luxury is an experience to live and share, a sensory journey that makes us fully appreciate the beauty surrounding us.
The Mediterranean paradox: The Mediterranean, rich in ancient history, is a place where minimalism and luxury coexist in perfect harmony.
This architectural paradox is evident in the works of Álvaro Siza and Antoni Gaudí, who combine the simplicity of clean lines with the richness of decorative elements. Álvaro Siza integrates minimalism with the surrounding nature, while Gaudí infuses luxury through organic shapes and intricate details.
This balance between minimalism and luxury inspires us, and we aim to further explore this intersection in the next decade, crafting spaces that mirror the essence of the Mediterranean.
Our love for the arts: In our studio, design transcends mere functionality; artistic references serve as a deep well of inspiration.
We look to renowned artists like Alberto Giacometti and Louise Bourgeois to craft spaces that stand as true three-dimensional art pieces. Giacometti teaches us the importance of unique and significant forms, while Bourgeois drives us to create emotionally charged spaces.
Each project is an opportunity to infuse artistic life into our creations, turning every environment into a unique visual composition.
In the upcoming decade, we will continue to push the boundaries of art in architecture and design, offering an unparalleled emotional and visual experience. Our love for the arts lies at the core of our design identity, and we will honor it as we shape the future of our studio.
Commitment to sustainability: Sustainability is essential in today's world, and we passionately embrace it.
Inspired by chefs like René Redzepi, we aim to craft sustainable design and architecture that minimize environmental impact.
We employ eco-friendly materials and green construction practices. Sustainability is our guiding principle, and we plan to continue innovating and advocating for a greener, more aware future in our industry. Join us in this commitment toward a better world.
We invite you to dream with us in the coming decade, where we envision a transformation where minimalism, luxury, art, and sustainability coexist harmoniously in our design identity. Share this extraordinary journey with us and join the global conversation on beauty, functionality, and environmental responsibility.
The Mediterranean will continue to steer our creativity, honoring its heritage as we transform it into contemporary masterpieces that embrace the future.
Thank you for being a part of our journey so far. We eagerly anticipate sharing our next chapter with you.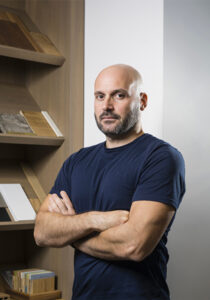 Nicola Andò
Founder & Direttore Creativo
Didea