An old workshop in a historic building in the heart of Palermo, transformed into a small loft, where everything has its own place thanks to custom-designed solutions allowing to easily make good use of space and functions.
Press:
Progetti | n°15
Cose di Casa | n°4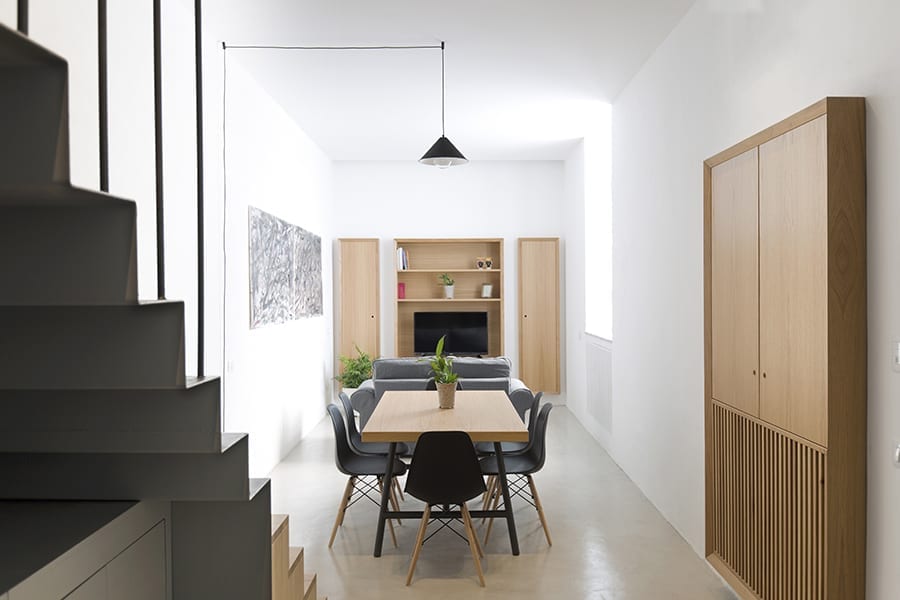 The two-storey apartment is characterized by a longitudinal layout (3 x 11 metres) with a cross-vaulted ceiling. The difficulties to overcome lay its small size and scarce natural light which enters the building from two tall windows overlooking an internal courtyard. Hence the need to design custom-made furnishing solutions by cutting niches into the large thick stone walls to create spaces as functional and cosy as possible. As for the light tones of the materials, they help to amplify the light.
The staircase plays the protagonist to the entire room and has been devised to act as a functional element to cleverly integrate the distinctive anthracite grey kitchen unit.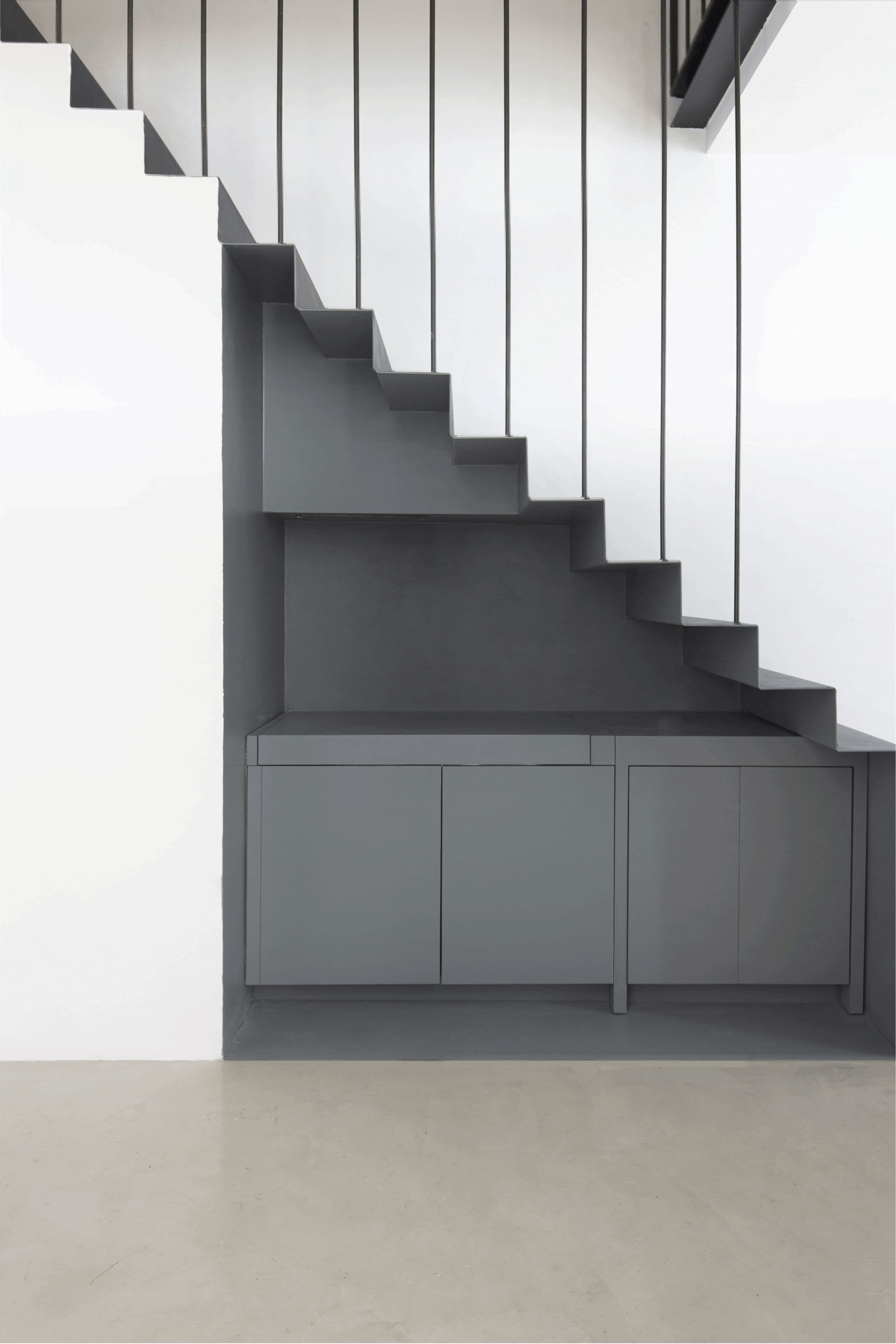 The entire sleeping area is characterized by its natural oak parquet floor, except for the bathroom, which is in grey resin. The cross-vaulted ceiling has been enhanced with spot lights. The headboard creates the dividing wall concealing the walk-in wardrobe.
A handful of essential materials have been chosen such as the grey epoxy resin coating the ground floor elegantly contrasts the natural oak parquet floor of the upper floor sleeping area. Finally, iron is used to incorporate the staircase-kitchen unit.
The kitchen unit is custom designed to optimize the space: when closed it may be used as a cupboard serving the living area, which then transforms into a stove with four burners and a stainless steel sink, equipped with a pull-out foldable table.
The storage units were also designed to make the most out of the limited available space. These have been set into niches cut into the thick walls, partially recessed, and positioned both frontally to the kitchen as countertop space for the dining area and on the small back wall as a support unit for the living area.
CONSTRUCTION COMPANY: LI CAUSI FRANCESCO
CARPENTER: DI SALVO ARTIGIANO DEL DESIGN
SUPPLIERS: C.A.S.A., POWERGREEN LED
ELECTRICAL SYSTEM: ACCADEMIA CENTRO DI ILLUMINOTECNICA
FLOOR COVERING : RESINA, ROVERE NATURALE TAVAR
FURNITURES  : LONGHO
LIGHTING : POWER GREEN LED
PHOTO :STUDIO DIDEA