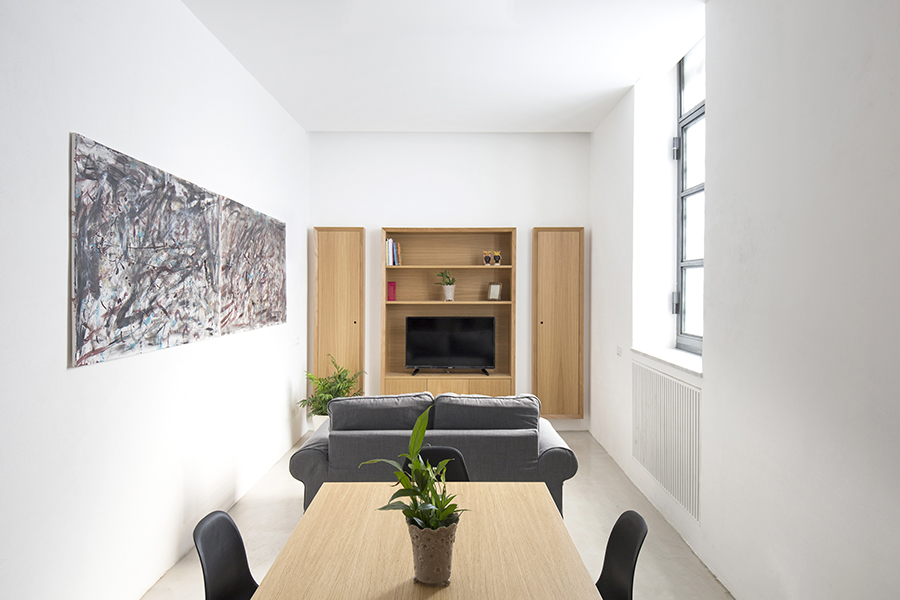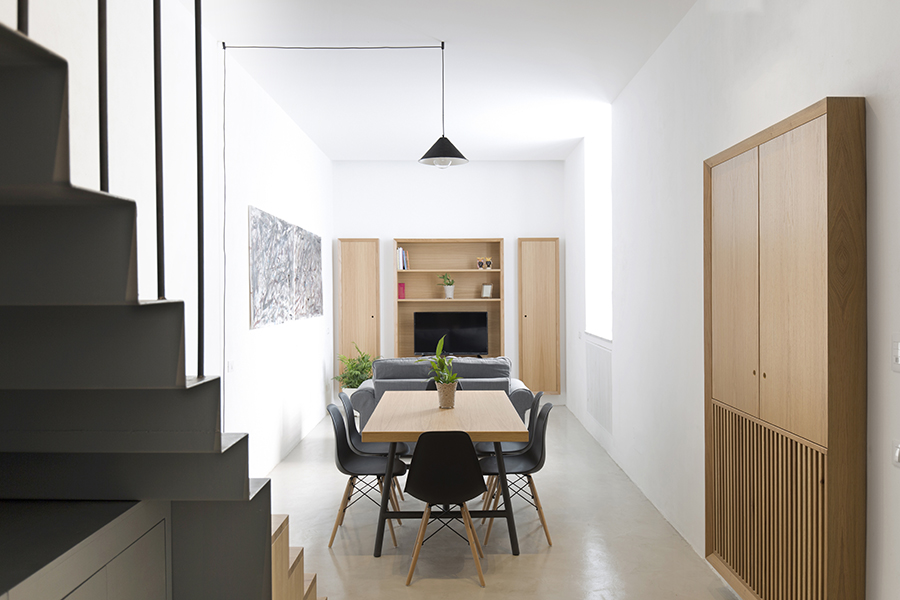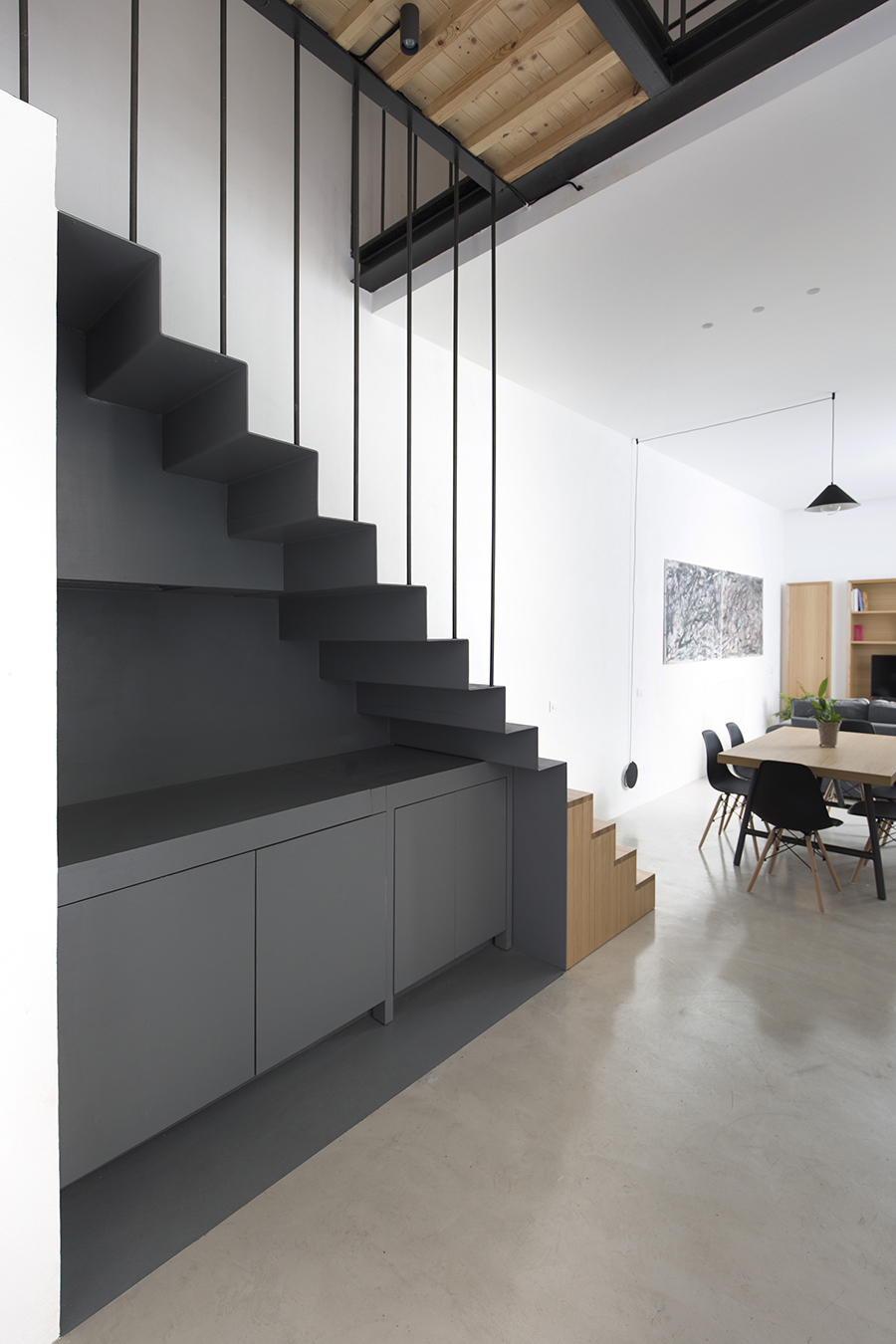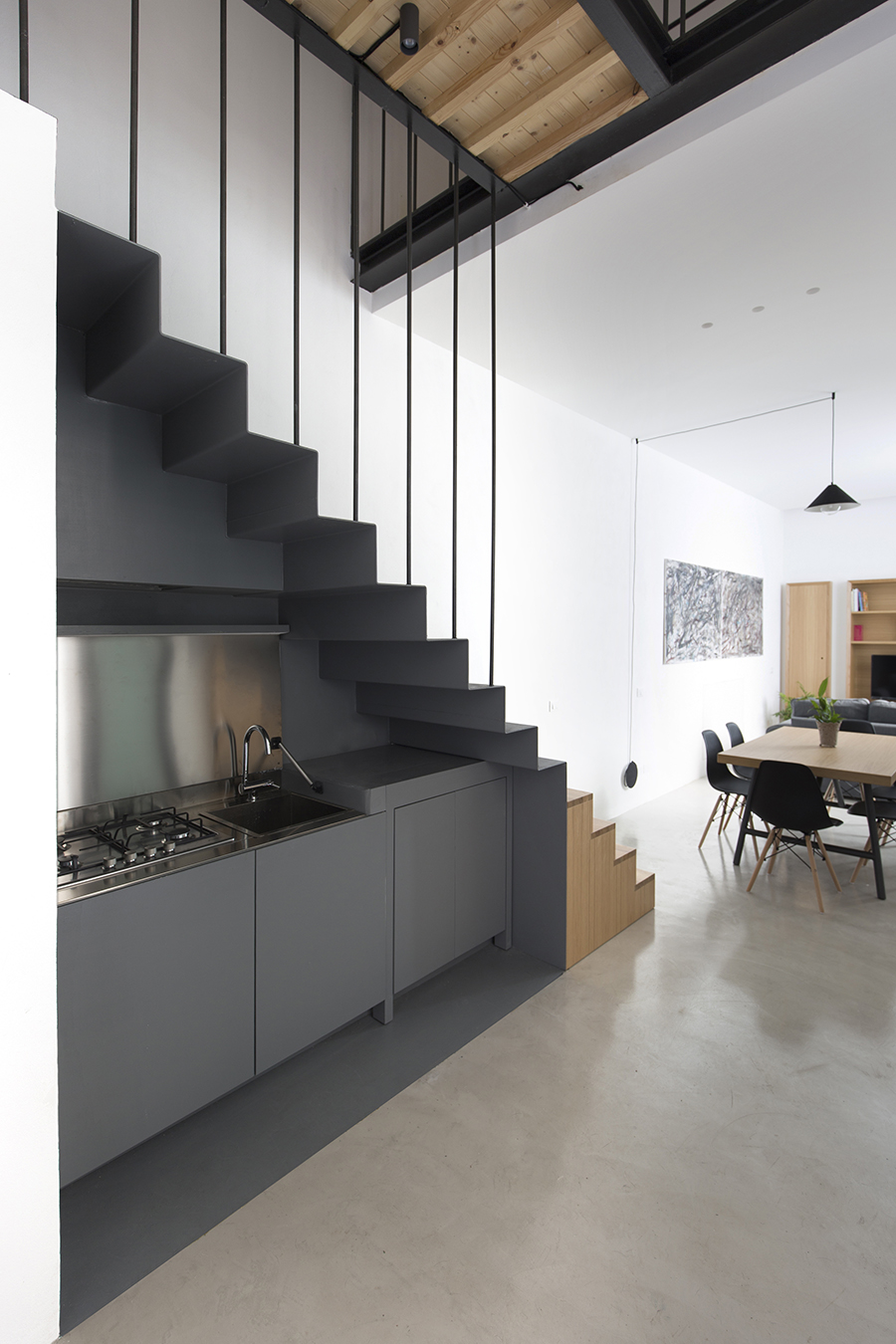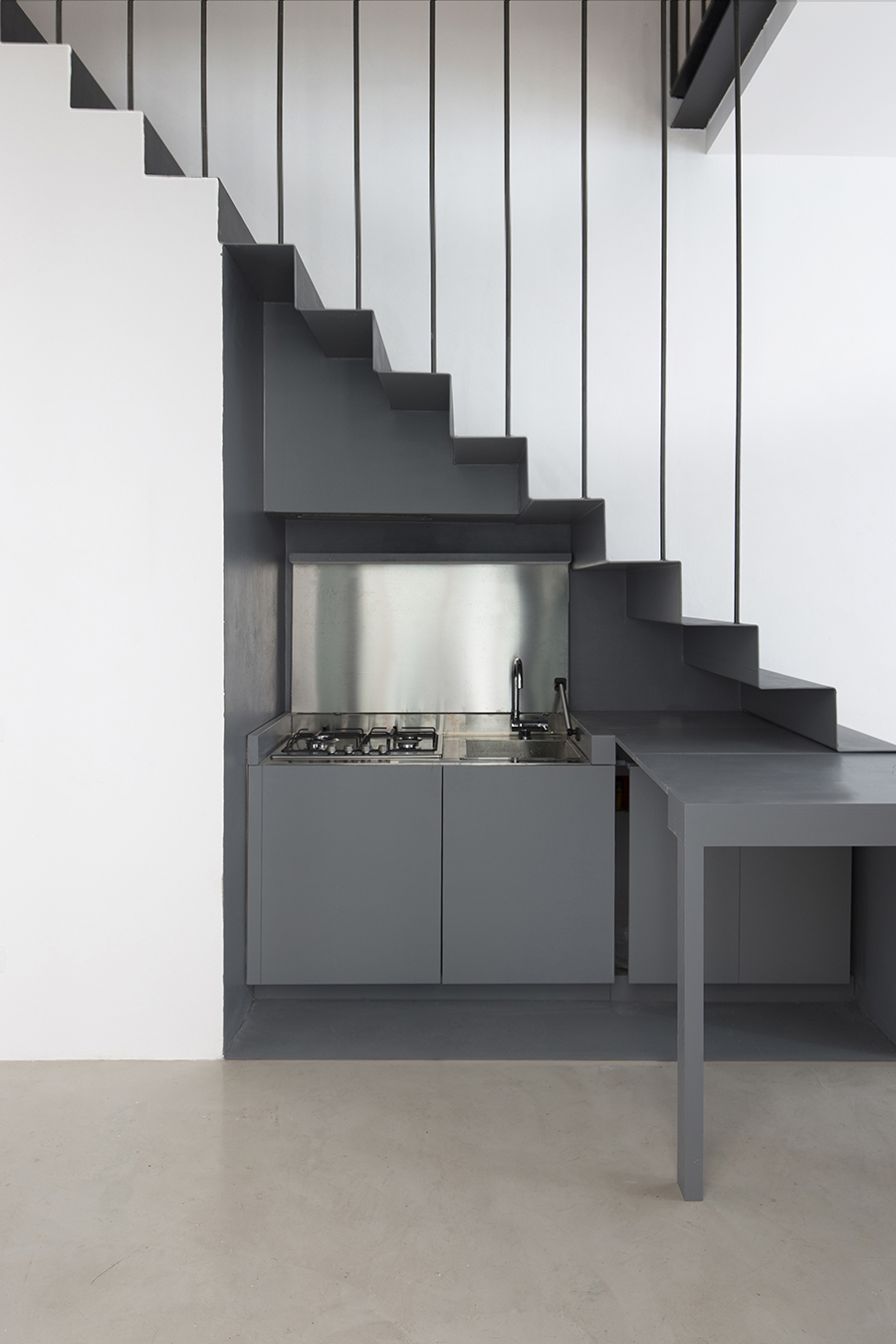 CASA #A223 | EXISTENZ MINIMUM
Studio DiDeA ha trasformato un vecchio laboratorio artigianale in un palazzo storico nel cuore di Palermo, in un piccolo loft, una "casa origami" dove ogni cosa trova il suo posto grazie a soluzioni disegnate su misura che permettono di organizzare al meglio spazio e funzioni.
L'appartamento disposto su due livelli è caratterizzato da uno sviluppo longitudinale (3 metri x 11) e da copertura a volte a crociera.
Il progetto ha presentato una serie di difficoltà dovute principalmente alle ridotte dimensioni e allo scarso apporto di luce naturale-l'immobile prende luce soltanto da due alte finestre che si affacciano sulla corte interna.
Da qui la necessità di progettare soluzioni di arredo tagliate su misura per rendere lo spazio funzionale e confortevole, e la scelta di utilizzare materiali con tonalità chiare, che amplificassero la luce.
Dalla corte interna tramite una porta industriale in ferro finestra, si accede al piano terra dove troviamo cucina, zona giorno e un piccolo bagno.
Il corpo scala è protagonista di tutto l'ambiente : concepito come un volume funzionale che integra al suo interno la cucina inserita nel sottoscala, vira su una colorazione grigio antracite che lo distingue dallo sfondo.
Il mobile della cucina è progettato su misura per ottimizzare lo spazio: chiuso è una madia a servizio della zona giorno, aperto si trasforma in un piano cottura con quattro fuochi e lavello interamente in acciaio, e tavolo da pranzo apribile a ribalta.
La cucina precede la zona pranzo dove il tavolo realizzato in rovere è sottolineato da un corpo illuminante a sospensione; da qui si passa poi alla zona soggiorno con il divano disposto frontalmente ad una parete tripartita parzialmente incassata, realizzata in rovere naturale.
La scala, con i primi quattro gradini realizzati in rovere naturale che fungono da mobile contenitore, dà accesso alla zona notte collocata al primo livello, contenente la camera da letto con affaccio sulla doppia altezza, cabina armadio e bagno.
L'intera zona notte è caratterizzata da un parquet in rovere naturale, ad esclusione del bagno, realizzato in resina grigia. Il soffitto con volte a crociera, viene enfatizzato dall'utilizzo di spot luminosi posizionati all'imposta delle volte. L'elemento di testata del letto, funge da parete divisoria con la cabina armadio.
Studio DiDeA converted a former brick manufacturing facility located in an historical building in downtown Palermo into a residential interior: a tiny loft with clever storage and space-saving solutions featuring double-height spaces and a black steel staircase
The two storey loft has a longitudinal development (3 meters x11) with a groin vaulted ceiling.
The designers had to face some obstacles mainly due to the small size and to the lack of natural lighting -the apartment takes sunlight only from two high industrial windows opening on an internal courtyard. For this reason all of the furniture is custom made to to create a comfortable and cohesive interior environment fulfilling the owner's practical and aesthetic needs.
The choice to use light coloured materials brightens the space.
From the internal courtyard an industrial iron door provides access to the ground floor where there are the kitchen, dining and living room and a small bathroom.
The steel staircase takes centre stage, conceived as a functional volume encasing an understair kitchen closet, whose main feature is its deep grey colour. The kitchen cabinetry was designed to optimize the space. It can be opened and become a fully equipped cooktop and kitchen sink with a drop-leaf opening table. The dining zone features an oak dining table underlined by a pendant light; from here a small living zone is organized through a sofa placed in front of a tripartite unit made from oak built into the wall.
The stair -whose first 4 steps realized in oak wood provide extra storage space – leads to the night zone on the first level with the bedroom overlooking the double eight, walk-in closet and bathroom.
In contrast to the resin flooring of the first level the night zone features an oak wooden parquet flooring except for the bathroom.
The groin vaulted ceiling is enhanced trough lighting spots placed at the base of the arches. The headboard behind the bed works acts as separating panel with the walk-in closet.
CREDITS
Cliente / Customer: Privato
Collaboratori / Collaborator: Arch. Andrea Collodoro
Servizi forniti / Services: Ristrutturazione, Progetto d'interni, Direzione Lavori, Direzione Artistica / Refurbishment / Interior Design / Project Management
Anno / Year : 2017
Indirizzo / Address: Via Maqueda, Palermo, Italia.
Superficie / Area: 66 mq
Imprese / Companies
Impresa/Building Contractor: Li Causi Francesco
Falegname / Carpenter: Falegnameria "Di Salvo Antonio" – L'artigiano del Design
Materiali / Materials: ferro verniciato nero per la cucina, mobili in legno listellare impiallacciato con finitura rovere naturale, resina grigia e parquet rovere naturale / black polished iron for the kitchen, wooden furniture with natural oak finish, gray resin and light oak parquet
Pavimenti / Floors: Resina grigia per il piano terra, parquet in rovere chiaro Tavar / Gray resin for ground floor, light oak parquet for first floor
Fornitori / Suppliers: C.a.s.a. Ambienti per la vita, Powergreen Led, Accademia Centro di Illuminotecnica
Fotografie / Photos: Studio DiDeA Architetti Associati
Budget: 50 000,00 €
LINKS
www.divisare.com – interni siciliani
www.thearchitectureinsight.com
www.interioresminimalistas.com
PRESS