A designed space where mediterranean minimalism mixes with Japanese food-culture.
A warm-colored room that contains natural elements, such as the billiemi stone of the counter and the ash paneling in the mocha hue, and cool elements such as the satin-finished steel of the back counters, which give the room a balanced color harmony.
Indirect ceiling lighting and textured walls create a warm and welcoming atmosphere in a contemporary space with a clear reference to Asian architectural culture.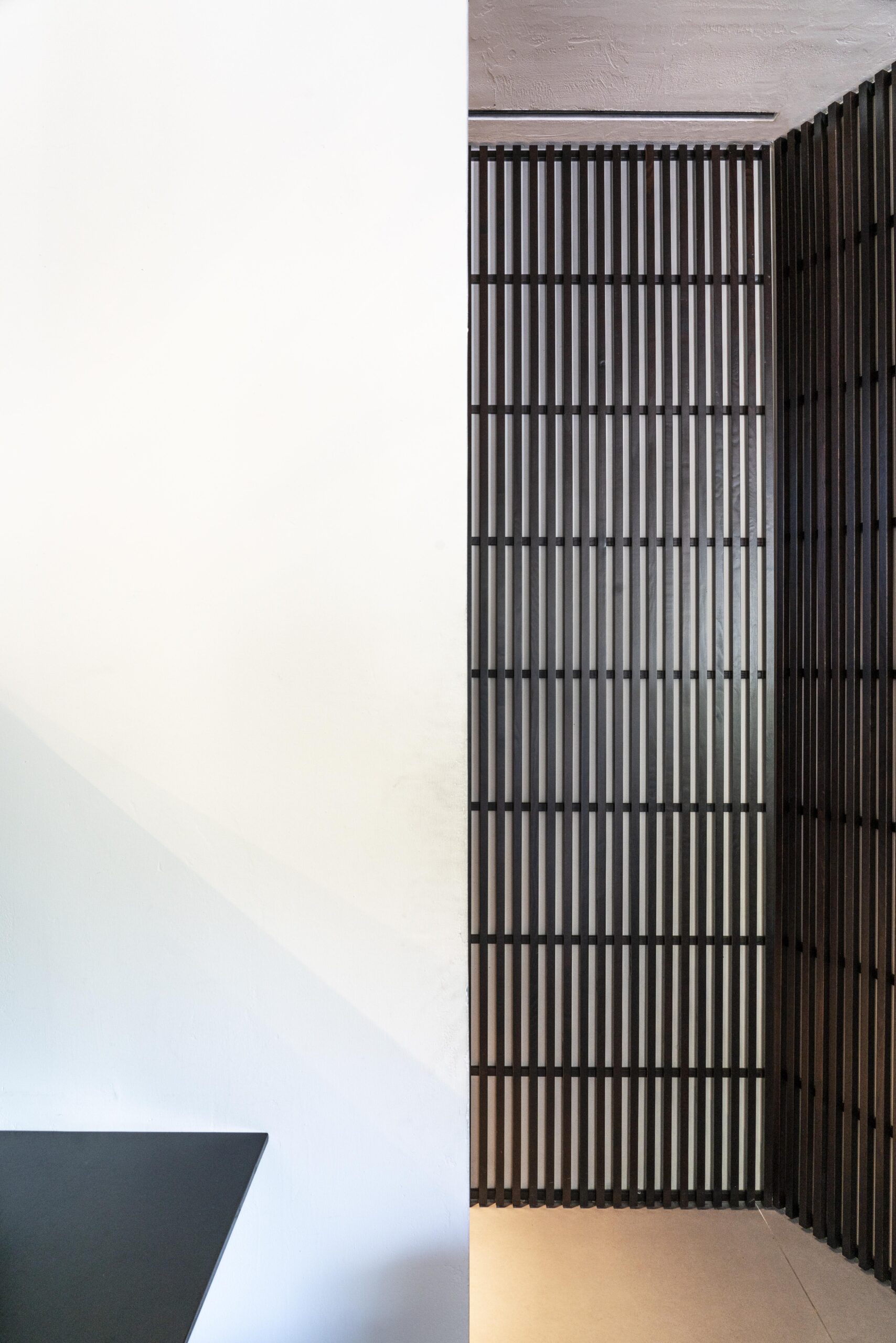 The lighting was designed with a system of matte black iron tubing and leds that develop direct and indirect light and create a perfectly geometric pattern within the space.
The materials used are solid ash with a mocha finish for the wall paneling; satin-finished steel for the furniture and fixtures-interior and exterior-gray stoneware for the floors; cream-colored resin for the walls and ceilings; and bush-hammered billiemi marble for the bar and sushi counters. The satin-finished steel panes perfectly echo the geometric features of Japanese walls, full on the walls and empty on the back bar.
Company construction: Futura Automation di Salvatore Anzelmo
Carpenter: Bosco Falegnami
Equipment: Tevere Arredo Negozi
Glass works: Vetreria Mafara Franco
Materials: Marble Billiemi bush-hammered/ Ash wood moka / plasters / Satin steel
Flooring and Coatings: plasters / Satin steel / Gres resin effect
Marble: Marble billiemi bush-hammered Sarcona Marmi
Suppliers: Sardina Rappresentanze / Aiello Arredi
Vacuum system: Fratelli Bellanca Ventilazioni
Signs: Fratelli Gulino
Steel works: Aiello Arredi
Lighting: Olev / Eugenio Schiavo rappresentanze / Cocolumo
Photo: ©Francesco Giardina