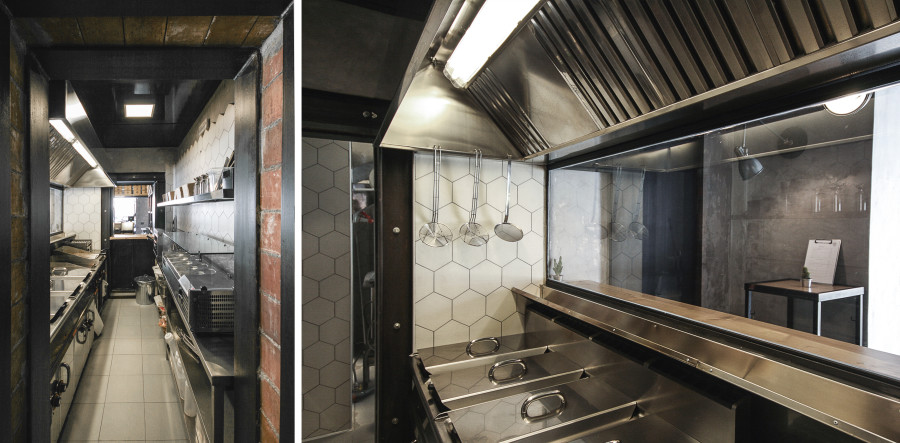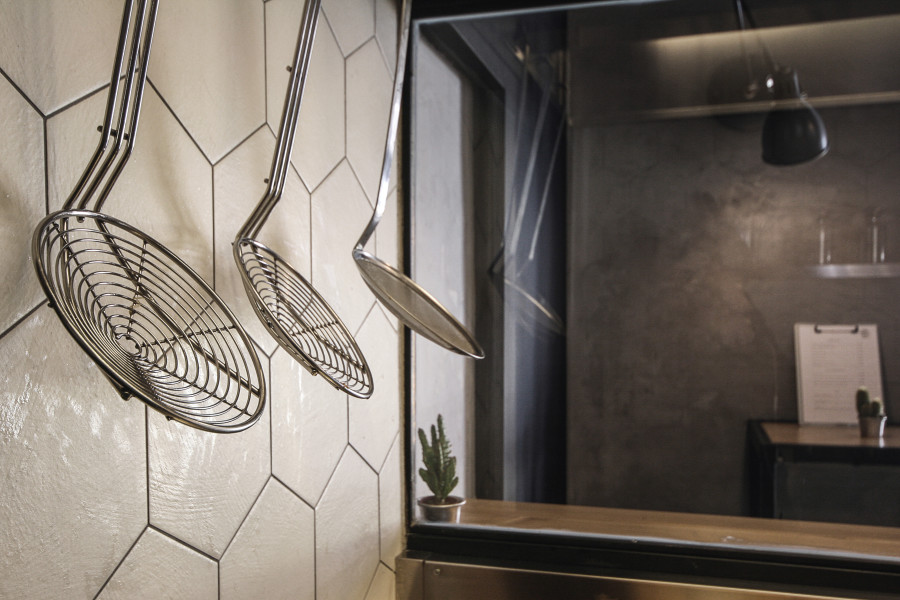 UNTO
Unto è un locale da street food nel centro di Palermo.
Il progetto di DiDeA ha trasformato l'architettura preesistente un negozio di antiquariato a sviluppo longitudinale e suddiviso in vani contigui – in un unico ambiente, cromaticamente virato sulle tonalità del grigio ed attraversato da un grande bancone in cemento faccia a vista e legno, che caratterizza il locale. Un volume sospeso in lamiera forata nera a coronamento del bancone, funge da piccolo magazzino/deposito, e come supporto a lampade applicate in diversi punti ed orientabili, permettendo sempre nuove configurazioni dell'illuminazione.
L'uso dei materiali industriali permea anche gli ambiti della cucina e i semplici arredi- sgabelli in acciaio e scaffalature in legno e ferro- e gioca a contrasto con la pavimentazione originale dei primi decenni del '900, unico carattere decorativo del locale.
I grandi infissi in ferro e vetro dell'entrata si aprono completamente verso l'esterno, in una
continuità tra dentro e fuori che evidenzia la natura 'da strada' del locale.
The project is conceived as a reconversion of the previous space in a fast food.
The former antique shop's space was composed by interconnected rooms, that the architects have turned into a singular grey-tones place marked by an extended counter made of visual concrete and wood.
Over the counter, a suspended volume of perforated black metal panel acts as a little storage, and ad support for a series of adjustable lamps.
The materials selection ( perforated metalpanel, visual concrete, grey painted walls, iron stools) reminds of industrial atmosphere and it creates a strong contrast with the early 20th century decorated floor, left exposed.
The iron front doors open up to the street,providing a sense of continuity between interior and exterior spaces, and underlining Unto's urban character.
CREDITI / CREDITS
Tipo / Type : fast food / fast food restaurant
Cliente / Client : Unto s.r.l.
Anno / Year: 2015
Luogo / Location: Palermo – Italia
Architettura / Design: Studio DiDeA ( Nicola Giuseppe Andò, Emanuela di Gaetano, Alfonso Riccio, Giuseppe De Lisi)
Servizi forniti / Program : ristrutturazione, progetto d'interni, immagine / Refurbishment, interior design, brand design
Superficie/ Surface: 49 mq
Impresa/ Contractor : Edilcrea Tognetti
Foto / Photo: © Studio DiDeA
LINKS
PRESS